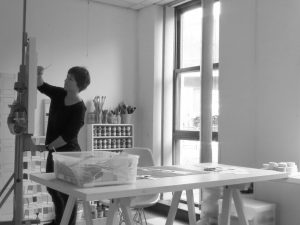 Latest work can be viewed here on Instagram and images of past work is available via the 'Archive' tab above.
"The buildings and structures that surround us form the everyday landscapes of our lives. They constitute a visual record of our existence and act as a reminder of our temporality. I am interested in the way we respond to these landscapes and how they can exclude, alienate, reassure or bolster. I am curious about whose actions and decisions shape them, how people appraise and value them, seek to protect them or change them.
Consciously devoid of figuration in order to encompass a time period greater than the present, my method of constructing and painting mirrors the layering I observe. Likewise, I see symmetry in using 'recycled' house paint; paint left over from other people's DIY projects that perhaps retains something of their optimism." 
Gillian Swan is a mixed media artist based in East London. Born in 1982, she studied Industrial Design at Brunel University, graduating in 2005. She co-ordinated the Leytonstone Arts Trail in 2013 and was one of the founders of The Stone Space, an artist-led gallery space in Leytonstone, East London.
All images are copyrighted © Gillian Swan 2019.